1Bet Review 2023 - Bookmaker for Crypto Sportsbetting
About 1Bet
Licence:
Curaçao Gaming
Online since:
2010
Welcome Bonus:
150 CAD
Visit 1Bet:
Play now
1Bet is a feature packed crypto gambling site with a solid sportsbook along with a booming casino. There are several sports promotions here to keep your bankroll loaded. If that's not enough, and you have a few minutes in between games, then complete missions to earn points that can then be exchanged for free bets.
This sportsbook has all the key sports covered and more. Football, basketball, baseball, hockey, soccer and MMA are on, and there is a special Esports section as well.
On the crypto side of things, 1Bet accepts major cryptocurrencies such as Bitcoin, Bitcoin Cash, Ethereum, Litecoin and Dash. They also accept fiat currencies and you can just as easily use your credit card or e-wallet here.
New customers can claim a 100% sports bonus with their initial deposit starting from $10 when entering the bonus code. The bookmaker uses bonus codes as players can choose from a variety of offers at any given time, and the codes are your way of choosing the promo you want. We'll cover all information regarding 1Bet bonus offers for you further down in this review.
General information: 18+ sports betting | Welcome Bonus for new customers only | Terms and Conditions apply
StrengthWeaknesses
Curacao licensed gambling site
Pre-match bet markets open weeks in advance
Multi-view available for live betting
Choose between crypto and fiat for banking
Variety of sports bonuses to choose from
Some odds can be more competitive
Site design could be slicker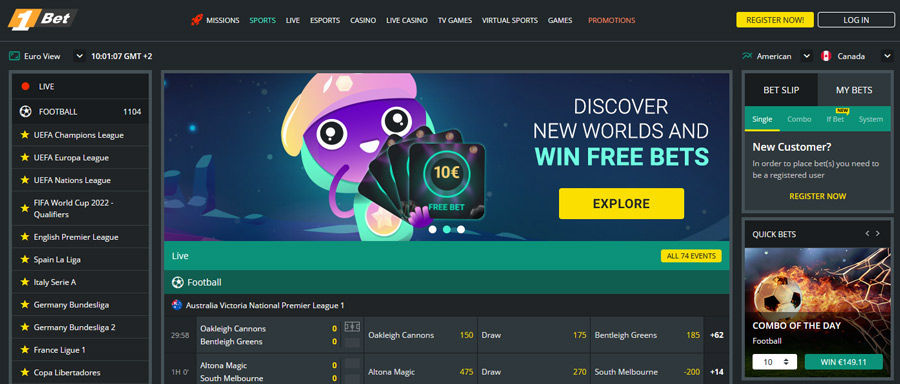 MoreLess
Cryptocurrencies accepted at 1Bet

Bitcoin

Litecoin

Ethereum

Dash

Tron

Bitcoin Cash

USD Coin

Tether
---
Breakdown of our 1Bet Crypto Sportsbetting Review
1.) The 1Bet Sportsbook

With close to 30 sports, 1Bet Sportsbook will have you well covered. Football covers the NFL, NCAA, USFL and the CFL. Basketball always includes the NBA, and at 1Bet, they give it an international spin offering markets in other national leagues as well. Soccer is impressively well done at this site, drilling down all the European leagues, and the USA Major League Soccer is there too.
Overview of the sports coverd by 1Bet
| | | | |
| --- | --- | --- | --- |
| Football | Tennis | Ice Hokey | Esports |
| Table Tennis | Horse Racing | Greyhounds | Baseball |
| Volleyball | Darts | Rugby League | Rugby Union |
| Snooker | Boxing | MMA | American Football |
| Cricket | Handball | Motorsports | Golf |
| Cycling | Specials | Winter Sports | Speedway |
| Kabaddi | Virtual Sports | | |
There are lots of markets and betting options. With basketball for example, in addition to single bets, you can choose from handicap bets, over under, outrights, draw no bet, double chance, as well as combo bets to get the max out of each game.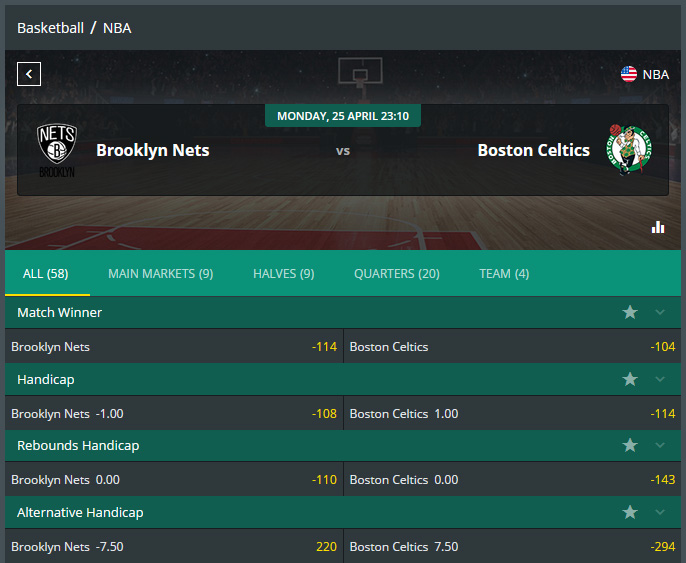 MoreLess
There's an Esports tab in the sports menu on the left of the screen, where you can find CS:GO, League of Legends, and King of Glory. NBA2K is listed under Baseketball, and ESoccer is listed under Football, but these are strangely not listed under the Esports tab in the sports menu.

If ESports are your game, it's best to go directly to the ESports tab in the menu running across the top of the screen. There you'll find everything under one umbrella, with more options, including Rainbow Six, Dota 2 and Valorant.
The layout of the sportsbook is pretty standard, although graphically, we do find it a bit boxy for this day and age. That's just a matter of taste though and functionally speaking, the site performs beautifully.
Back to TOC
2.) 1Bet Sportsbetting App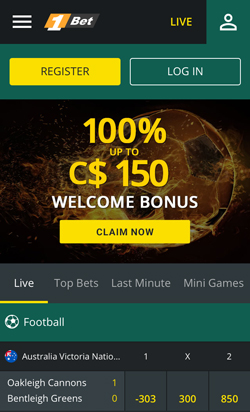 Responsive websites are the way to go nowadays, and that's what 1Bet Sports has decided to go for. What this means is that you don't have to download an app. It's all ready for you in your browser, whether it's on your phone, tablet or computer.
The sportsbook will adjust itself to your device. You'll see the same theme laid out optimally on the smaller screen. If you've been on the desktop version, you will find your way around the 1Bet mobile sportsbook easily. Live bets are the first thing you will see, and menus are up at the top of the screen to give you quick access to the key categories. Tap on the menu in the top left corner and more betting options will drop down. Account settings can be found in the top right corner, just like on the desktop site.

Tip: You can create a shortcut to 1Bet on your device's Home screen by going to the site, then to the browser's menu and selecting Add to Home screen. Although a 1Bet.apk for Android and a 1Bet app for iOS can be found with a search, this is absolutely unnecessary. Using the responsive website is always better because you can be sure it's up to date. Many providers have been phasing out support for their standalone apps.
Back to TOC
3.) 1Bet Live Betting
There is always something going on in live betting since 1Bet is plugged in to all the betting markets across the world. Of course, what you see will depend on the season, the day and the time you're checking in. Whether it's the NBA, or the UEFA, the Japanese volleyball, the India Premier League for cricket, or Aussie rules, it's all available for in-play betting.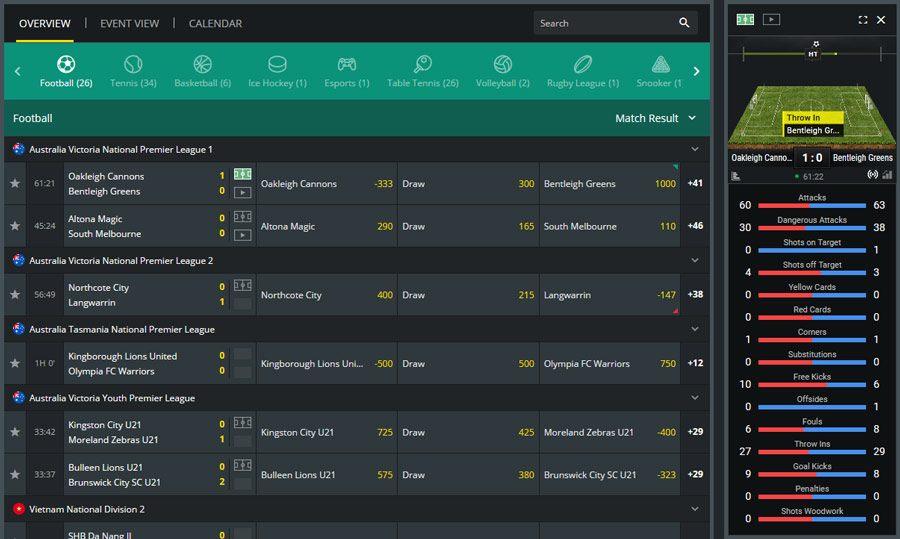 MoreLess
From the 1Bet sportsbook, the live events are listed up top of the left menu, under the Live tab. Or you could go to the top menu bar and check in the Live Betting section. On landing, the Live Betting section is organized by sport, and will show you how many events are live in each sport, for example, Football (18), Tennis (17), Basketball (9).

This section also has a really helpful Multi View function. This is useful when you are placing several live bets and want to keep an eye out on the changing odds. Event View on the other hand will only show you the details of the specific game or match you selected. The Calendar tab lets you line things up and plan your live betting ahead.

1Bet offers live streams of many sporting events. Esports get a lot of air time. However, during our 1Bet review, we didn't really find a schedule of the streams to plan our viewing in advance.
Back to TOC
4.) Odds and Payouts at 1Bet
Betting odds are one of the most important things in sportsbetting and bookmakers know it. The odds are what define how high the payout will be in case you win. If you want to check a bookmaker's payout rate to a game, then you can do it by:
1 / (1/Decimal Odds + 1/Decimal Odds + 1/Decimal Odds) * 100
Best Odds by Sports
payout rate*
NFL
up to 96%
NBA
up to 96%
NHL
up to 96%
European Soccer
up to 97%
Tennis
up to 94%
E-Sports
up to 92%
* pre-match odds, based on the main betting market (win)
The example above is using a 3 way bet.
In our 1Bet review, we found the bookmaker offers good odds across the board. The best odds tend to be for European soccer, especially the German Bundesliga and the English Premier League. However, the payout rate for NBA games is still very decent at 96%.
The payout rates are based on the best odds we found, but generally speaking, the payout rate remains relatively constant across the league. Odds do change with each specific game at 1Bet though, as they do across all sportsbooks.

Payout rates show the bookmaker's margin. The higher the payout rate, the lower the margin, and the better it is for punters.
Live betting odds are changing all the time, and will often fall a bit short of the key payout rates. However, we found that within soccer, the rates were pretty consistent.
Back to TOC
5.) 1Bet Bonus for New Customers
The 1Bet Sportsbook welcome bonus is solid at 100% to $150. To claim the offer, go to the 1Bet sports section – and we say this because there is also a casino, and there you will see the offer listed right in the center. Click on "Claim Now", and just follow the instructions and remember to enter the bonus code WB100B before you make your deposit. Remember, this is only available for your first deposit, so make sure to use the code right away.

You need to activate the bonus by entering the code before you make the deposit, otherwise you won't get the offer. It has to follow this precise order.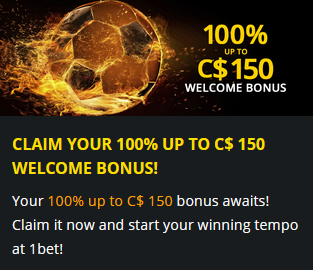 Activate the bonus by entering the promo code WB100B
Make your deposit
The bonus will be credited to your 1Bet account
Your deposit should be between $15 and $100. $15 is the minimum and you can of course make a higher deposit than $150, but since the bonus doesn't go higher than that, you won't get extra for doing so.
1Bet Bonus Terms
Almost all bonuses come with terms and conditions, and it's not really a free cash drop per se. We have the rules to the 1Bet sports bonus for you below:
| | | |
| --- | --- | --- |
| | Minimum deposit: | $15 |
| | Maximum bonus: | $150 |
| | Bonus code | WB1001B |
| | Wagering requirement: | 12x |
| | Valid for: | 21 days |
| | Max bet: | 50% of bonus |
| | Min odds: | 1.80 (decimal) |
| | Max win: | 5x bonus |
Restrictions: Bonus cannot be used for any NHL markets, or NBA markets that include Two way last to score, Two way first to score, Team highest scoring quarter, and Two way race to.
---
Let's walk through these terms with an example. Suppose you deposit $75. You'll get another $75 in bonus cash, giving you a total of $150 in your account to bet with.With the $75 bonus, the wagering requirement is $75 * 12, which means to you need to wager $900 to clear the requirement. Meanwhile, your stake should not be above $37.50 (half of the $75 bonus). In addition, you should keep in mind that you have 21 days for this, while observing the minimum odds and the restricted betting markets for the bonus.
Five Tips to Getting the Most out of the 1Bet Bonus
You want to clear all of these hurdles as quick as possible to convert that bonus into freely available capital. Our editors have come up with a list of the 5 best tips and tricks to clearing the 1Bet first deposit bonus.
Combo bets make limited sense. Since you can only win a max of 5x bonus with the offer, you have to watch how everything adds up. In our example of a $75 bonus, a max win would be $325. If you stake $20 on odds of +190, your profit would already be at $400, which is over what the max you can win within this promotion campaign.

---

The general bonus terms forbid hedge bets. So avoid betting over and under in the same game.

---

Remember NBA and NHL markets are largely excluded. This might be a time to check out new sports like the German soccer leagues, which have good odds.

---

The 21 day validity period is based on when the bet is completed, not on the day you place your bet. So for example, if you place your bet on the 21st day, but the game itself only takes place the day after, it won't count!

---

The -125 odds is just a minimum and a guide. If you see something along the lines of +280 that interests you, then go for it.
Last but not least, the new customer bonus is just the beginning. 1Bet has several other sports offers after that, including a weekly $7.5 free bet.
Complete Missions to Earn Points for Bonuses
In the top menu, the first thing you see on the left is Missions with a red rocket. Once you're in, you'll see various tasks you can complete to earn points. These points can eventually be exchanged into bonuses. For example, 900 points can be converted into a $10 free bet. There are also free spins for slots as well.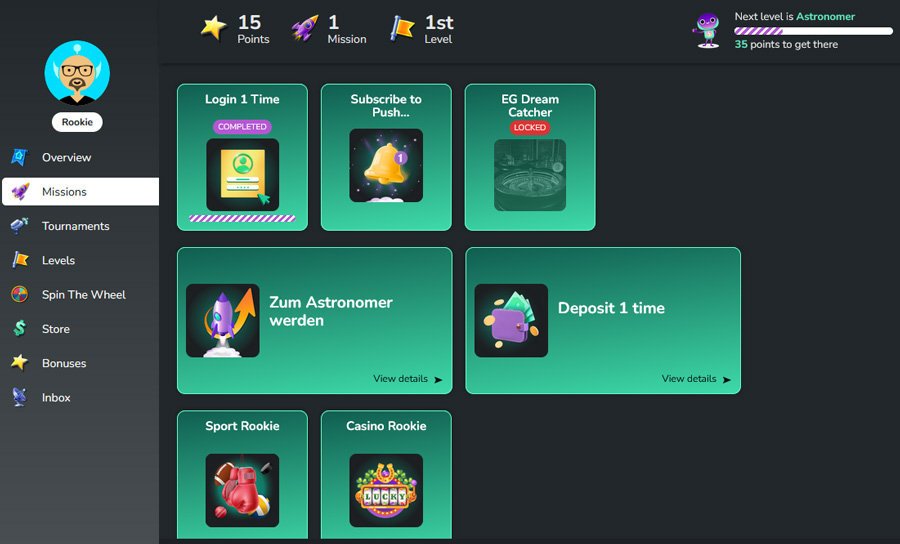 MoreLess
Completing 15 missions will move you up a level. There are 10 levels, and beyond missions themselves, there are also full blown competitions.
Back to TOC
6.) Deposit and Withdrawals at 1Bet Sportsbook
Once you've activated a bonus by clicking on it, 1Bet will show you deposit options. From the crypto side of things, 1Bet accepts the following coins:
Bitcoin (BTC)
Ethereum (ETH)
Litecoin (LTC)
Bitcoin Cash (BCH)
Dash (DASH)
USD Coin (USDC)
Tether (USDT)
Tron (TRX)
You can also choose to make a deposit in fiat currencies such as CAD, Euro, Japanese Yen, and the British Pound. Traditional payment methods like Visa, Mastercard, as well as e-wallets like Mifinity and Jeton are also accepted.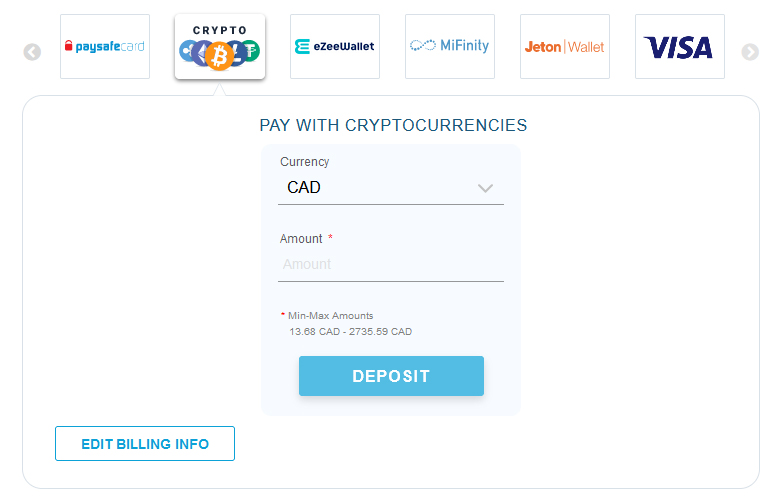 MoreLess
The deposit limits do vary a little depending on your payment method of choice. It's good to know that while crypto is usually associated with higher transaction limits, the deposit limit is actually higher if you use Jeton, which has a max of 10,000 USD.
Verification and Max Bet Limits at 1Bet
All legit and licensed casinos will need you to verify your account before paying out. At 1Bet, the verification procedure is done by email. As it says on the 1Bet FAQ, "To verify and validate your 1bet Account please contact our Customer Support Department via email at csd@1bet.com." A portal to directly upload the verification documents from account settings would have been nice, but at least for now, this is not available at 1Bet.
Here are the verification documents that you will need to provide:
Proof of identity – your driver's license or passport will usually do the trick
Proof of payment – if you are using a credit card, then card number
Proof of address – a copy of your electricity bill, for example

Max bet always depends on the game or match, and how popular that event is on the site. At 1Bet basketball for example, the max bet for a combo was $4,287 in a NBA game between the Cleveland Mavericks and the Dallas Mavericks, whereas a NCAA Basketball game between the Fresno State Bulldogs and the Coastal Carolina Chanticleers was $1,083.
Back to TOC
7.) 1Bet Customer Service & Help Center
Customer service at 1Bet is great. The whole process is attentive to any trouble you might experience. In our 1Bet test, we looked around for a while without making a deposit, and the bookie sent us clear, simple banking instructions via email.

The team is responsive, whether you decide to write them in email or in the live chat. You also have the option to send a copy of the chat to your email so you have everything on record and can look it up later. A Telegram channel is also available for staying up to date on the latest special offers.

1Bet FAQ is organized so that you can quickly find answers to questions concerning account settings, bonus terms, as well as betting rules. The look and feel of it is a bit dry, but there's plenty of information. And if anything is still unclear or missing, you can always ask them in live chat.
1Bet makes sure customers can easily reach their team and have good social media presence on Twitter, Instagram as well as Telegram. There's also a Mail Box section in your account settings to help you keep track of transactions, notifications of the latest campaign roll outs, and so on.
Back to TOC
8.) Security: Is 1Bet Trustworthy?
1Bet has been around since 2010 and remains a popular choice for many bettors. It belongs to the Bellona NV group, holds a gambling license from the government of Curacao, and is fully legit.
Pay outs happen as they should, and customers are satisfied with the banking process over the years. They've been in the business for long enough to prove that they are a reliable gambling operator. Their 1Bet support team is easy to reach and everything is highly transparent. As they say on their site,
"The professional and friendly team at 1Bet is available 24/7 to take any questions, comments or concerns you may have! We believe in creating a responsible gaming environment. […] At 1Bet, customer privacy and security is paramount; the goal of our staff is to provide each and every customer with a website that is safe and reliable."
1Bet Sports in Short
The 1Bet sportsbook allows plenty of flexibility with the option to bank in crypto and fiat. Popular coins like BTC, Bitcoin Cash, Ethereum are available as payment methods, as are e-wallets.

The coverage of sports is good. The bookie performs especially well in European soccer, and football and basketball odds are still competitive. All the major leagues are covered, as are smaller ones from around the world. The Multi View function comes in handy and is certainly appreciated.
1Bet also offers an excellent range of sports bonuses and promotions. There are several deposit bonuses, along with free bets and cashback. The mission-based reward system gives punters more opportunities to exchange points for free bets. All in all, you're looking at solid betting action at 1Bet.
Last Update:
Author Rating:
Show comments
Hide comments