Stake Sportsbook Review 2023 - Betting with Cryptocurrencies
About Stake
Licence:
Curaçao Gaming
Online since:
2017
Welcome Bonus:
Various Promotions
Visit Stake:
Play now
Stake has only been around since 2017 but has quickly become a top name in the gambling business. This bookie has some of the best odds for the NFL with overrounds down to 3%, and there are also some pretty awesome odds for European soccer leagues if that's your kind of ball. If you're looking for a crypto sportsbook, then Stake should definitely be on your radar.
Other than the numerous cryptocurrencies you can bet with, the highlight at Stake has got to be the sports live streams. There are over 170,000 streams per year on Stake, although you do have to register for an account to watch them. These streams have detailed stats to help you make quick and informed decisions on your next bet.
Sadly, there is no new customer bonus at the Stake Sportsbook. However, you will find a ton of giveaways, free bets, races, and other league or game specific promotions. There's also an awesome VIP club that will reward you with lots of perks. High rollers especially will get a lot out of it.
General information: 18+ sports betting | Terms and Conditions apply
StrengthWeaknesses
Great odds, especially for football and soccer
Around 2 dozen bonus campaigns for sportsbetting
More than 170k live streams per year
Active forum to chat with other bettors
VIP Club with exclusive bonuses
Betting odds tend to favor live betting
No overview of max bet limits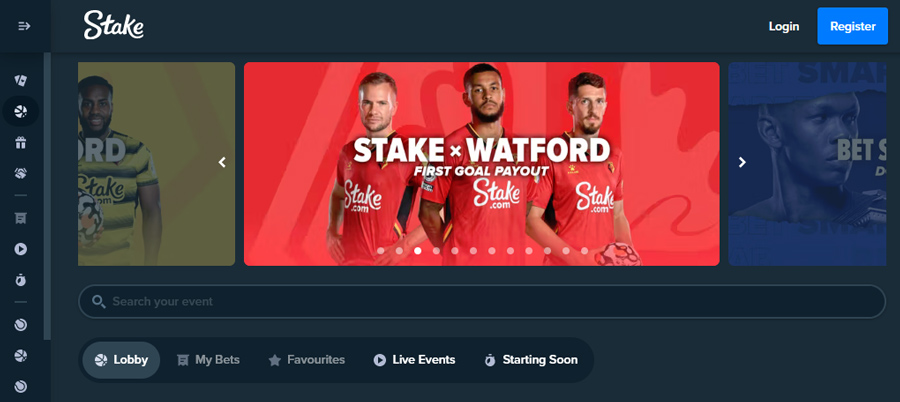 MoreLess
Cryptocurrencies accepted at Stake

Bitcoin

Ethereum

Litecoin

Tether

Dogecoin

Bitcoin Cash

Ripple

Tron

EOS
---
| | | | | | |
| --- | --- | --- | --- | --- | --- |
| ✓ Binance Coin | ✓ USD Coin | ✓ ApeCoin | ✓ Binance USD | ✓ Cronos | ✓ Dai |
| ✓ Chainlink | ✓ The Sandbox | ✓ Shiba Inu | ✓ Uniswap | ✓ Polygon | |
Breakdown of our Stake Crypto Sportsbetting Review
1.) The Stake Sportsbook
Sportsbetting at Stake is huge with nearly 35 categories. That's not even counting all the eSports, which has a separate section called – surprise, surprise – E-Sports! It's easy to bet on NBA2K, League of Legends, Counter Strike, and Dota 2 with the Stake Sportsbook.
Sports available at Stake
| | | | |
| --- | --- | --- | --- |
| American Football | Aussie Rules | Badminton | Baseball |
| Basketball | Boxing | Counter-Strike | Cricket |
| Cross-Country | Darts | Dota 2 | Electronic Leagues |
| Field Hockey | FIFA | Floorball | Formula 1 |
| Futsal | Gaelic Football | Gaelic Hurling | Golf |
| Handball | Ice Hockey | Indy Racing | King of Glory |
| Lacrosse | League of Legends | MMA | Motorcycle Racing |
| Plitics & Entertainment | Rainbow Six | Rugby | Snooker |
| Soccer | Squash | Stock Car Racing | Table Tennis |
| Tennis | Volleyball | Waterpolo | |

Football is high on the list at Stake, and it's more than the NFL here with NCAA and USFL available for betting too. Same goes for basketball, with the NBA, NCAA and more leagues. Hockey fans will of course find the NHL here, along with leagues from other countries. Soccer fans will be equally well served with just about every league covered, whether it's the English Premier League or the German Bundesliga.
There are hundreds of betting options available here. When it comes to football, other than the games themselves, you can also bet on things like a division's MVP and draft positions. Basketball gives you just as many options and you can even bet on whether there will be overtime in a game.
Stake has America's favorite sports and more covered. Football, basketball, baseball and hockey come in NFL, NBA, MLB and NHL leagues and more. Soccer fans won't be disappointed as all the European leagues and international leagues are covered in detail. Needless to say, tennis and golf are also on the table, as is MMA and the UFC.
A good sportsbook knows that there is much more you can bet on than just sports. And at Stake you can bet on things like politics and the Oscars when the season rolls round.

There is a Live Events tab, and a Starting Soon tab that you can always access through the menu. If you like your betting live and hot, check these options out.
Back to TOC
2.) Stake Sportsbetting App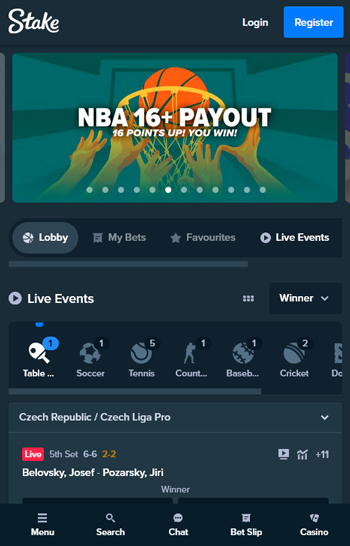 As part of our Stake review, we also tested the bookie's mobile functions. You're looking at a browser-based, no download sportsbook at Stake, which means you don't have to download an app and it works on all phones and tablets. iPhone, iPad, Android – they all work as long as you're connected to the internet.
The mobile sportsbook has all the functions as the desktop version. Depositing, cashing out, placing bets, buying crypto, and contacting customer service and everything else can be done on the phone. The load time for the site is quick and performance is smooth.
With all the functionalities packed into the small screen, rookies to online betting may find it a bit overwhelming at first and may prefer the desktop version. However, once you are familiar with how the different items are nested in the menu, it's a great way to stay up to date no with the latest scores. You won't miss anything in your bets no matter where you are.
Back to TOC
3.) Stake Live Betting
Live betting is a big deal at Stake. It's one of the first things you'll see when you land in this sportsbook so you don't miss a second of the action. As you're moving around through the different options on the site, you can always get back to the the inplay section through the menu button in the top left corner of the screen. Expand the sidebar and you'll see Live Events right there. And if you like to plan ahead, Starting Soon is right under Live in the menu on the side. Then you'll see the events organized according to their respective sport in the main screen.
Depending on the event, the number of single bets available is impressive and sometimes you can even find bet options that aren't available or even banned at other bookmakers. There's also visualization and stats on the right side of the screen to help you think through all the details before you put your money down.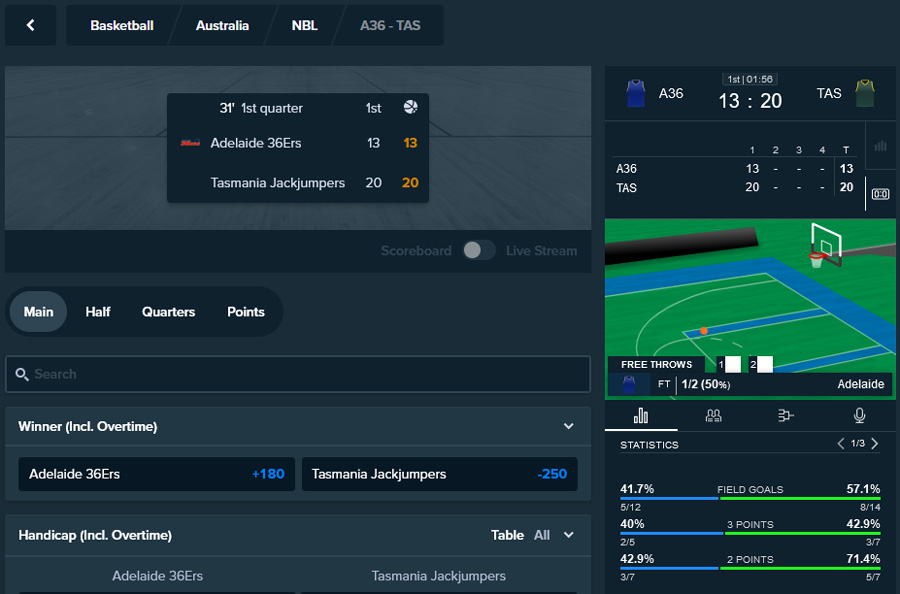 MoreLess
Live Streams and Other Special Features
Without a doubt, live streams are one of the highlights at Stake. This crypto sportsbook delivers over 170,000 events straight to your screen. Sport streams here include: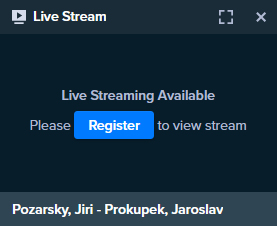 NBA
MLB
Football
Soccer
ATP Tennis
Please note: Registration or sign up is required to view these streams at Stake. But once it's done, you can even watch multiple streams at once!

It goes way beyond just sport streams though. For example, for UFC, Luciana Andrade, the UFC Octagon Girl, is part of the Stake team and has hot tips for punters. You can definitely take these into consideration with the legs and fights.
Back to TOC
4.) Odds and Payouts at Stake
We'll start with some of the practicalities. If you expand the menu on the left, scroll down after all the sports, you'll find the option to change how the Odds are displayed, which can be shown in American, Decimal, Fractional, along with a couple of other local systems. The best odds are for NFL football, followed by the English Premier League and then the NHL. There are some highly profitable NFL moneylines at Stake and if this is your game you should definitely check it out.
| | payout rate* |
| --- | --- |
| NFL | up to 97% |
| NBA | up to 96% |
| NHL | up to 96% |
| European Soccer | up to 96% |
| Tennis | up to 94% |
| * pre-match odds, based on the main betting market (win) | |
As for the payout rate at Stake, we took all the odds together and averaged them out, and put it as a percentage to give you a quick overview. We used this calculation based on decimal odds to figure out the rates.
1 / (1 / Odds + 1 / Odds …) * 100

A higher payout rate means better odds.
Experienced punters might comment that compared to other crypto sportsbooks, these are not necessarily the best odds available. That is indeed true. In putting this Stake review together, we did find that some live betting markets have payout rates of just 92% and there are other crypto bookies with more competitive odds. However, we still found that the Stake sportsbook regularly outperforms other international bookies.
Back to TOC
5.) Stake Bonus for New Customers

Punters are accustomed to new customer bonuses with their first deposit. However, this is generally not the case with crypto sportsbooks, and Stake falls into this category. That means there is no traditional welcome bonus at Stake. But don't write the site off yet, because if you look under the Promotions section there are plenty of promotions that you can pick up right away. Some offers will still payout even if your pick loses, and these are as close to real money, risk free gambling offers as you can get.
A lot of these offers are match or game specific, and time limited. So if you see something you like then you should just go for it.

MoreLess
Stake Bonus and Promotions
Stake has some awesome sportsbetting promotions. We've already mentioned that many of them tend to be time limited. But to give you a taste of what there might be, below is a list of some of the promo campaigns the sportsbook was running when we compiled this Stake sportsbook review.
Stake's Daily Races
This is long term promo. There's a prize pool of $100,000 every day and all wagers of that day qualify. On Saturdays, there's a special 90 minute sprint with a separate cash pool of $20,000.

Stake's Weekly Giveaway
Also a regular promo with $50,000 to give away every single week. The cash pool is split between 10 people, and wagers in both the sportsbook and Stake Casino will qualify.

UFC Double Winnings
With the Bet Smarter with Luciana campaign, you can double your winnings up to $100 if you bet with Luciana's hot tips.

UFC Split Decision Insurance
More for those who love a good fight. As the name of the promo suggests, you get your money back if your bet loses with a split decision in any UFC match.

NCAA March Madness
Your selection might not win, but if it manages to lead by 5 points or more by halftime, you get a pay out up to $100.

NBA 16+ Payout
Another great NBA betting promo, where you can get paid out even if your selection loses. All that's needed is a lead of 16 points or more in the match to get paid out.

Dogecoin Drops
If you're into soccer, this is a great opportunity to cash in with some coin drops. Stake gives out truckloads of Dogecoin with every Watford win in the EPL. Incidentally, Stake is a Watford sponsor and there are tons of extras you can win with this team. Even if you weren't into English football before, it might be seriously worth considering.

Watford FC Payout
If Watford scores the first goal in any Premier League match, all Watford bettors get paid out as a winner.

EPL Early Goal Payout
You get paid out as long as your team scores within the first 15 minutes.
The VIP Bonus program at Stake
Not all sportsbooks have a VIP program, and we're happy to report that Stake has taken a clear position on this front. The Stake Sportsbook VIP program is divided into five levels: Bronze, Silver, Gold, Platinum and Diamond. Frequent bettors and high rollers will receive an exclusive invitation to the club and enjoy exclusive benefits.
We've summarized the perks for you below. The benefits are cumulative, meaning that Silver and Gold levels, for example, have all the perks of the Bronze level plus more.
BronzeSilver and GoldPlatinum I & IIPlatinum III & IVDiamond
Weekly bonuses
Monthly bonuses
Bonus offered in the currency of your choice
Rakeback
Access to the VIP Telegram channel
Increase in weekly and monthly bonuses
14 – 28 days – daily bonuses
Increase in daily and weekly bonuses
Personal VIP host
Exclusively tailored benefits
Weekly $50,000 Giveaway – the High Roller Advantage
We mentioned it briefly before, but we'll mention it again. Stake has a $50,000+ cash pool to give away every single week. It's basically a lucky draw and you get an entry ticket for every $1,000 you wager, and bets made in both the sports and casino section will qualify. The more tickets you have, the higher your chances of winning. At $1,000 a ticket, high rollers clearly have an advantage here, so just a heads up for you guys out there.
Back to TOC
6.) Deposit and Withdrawals at Stake Sportsbook
Stake is a pure crypto gambling site. That means you have to bank with cryptocurrencies here. For a crypto sportsbook, it accepts one the widest selections of cryptos we've seen, including the following digital coins:
Bitcoin (BTC)
Ethereum (ETH)
Litecoin (LTC)
Tether (USDT)
Dogecoin (DOGE)
Bitcoin Cash (BCH)
Ripple (XRP)
Tronix (TRX)
EOS (EOS)
Binance Coin (BNB)
USD Coin (USDC)
ApeCoin (APE)
Binance USD (BUSD)
Cronos (CRO)
Dai (DAI)
Chainlink (LINK)
The Sandbox (SAND)
Shiba Inu (SHIP)
Uniswap (UNI)
Polygon (MATIC)
The site also accepts a few fiat currencies, such as the Canadian dollar, Japanese Yen, and Brazilian Real. Otherwise, it's crypto all the way. If you don't have any, you can easily buy the coin of your choice via the MoonPay gateway at Stake.

You can set your account to display in fiat or your designated cryptocurrency for easy reference.
As for fees, the bookie makes no clear statement whether it charges any. Some players have noticed small fees applied to transactions, but this is most likely the network mining charge that applies to all transactions with crypto wallets. The network fees do vary depending on which coin you are using. So you might want to keep that in mind and shop around for a coin with low fees for gambling. For example, Ripple has pretty low transaction fees, and if you're going to be doing frequent deposits and withdrawals, this could be a good choice.
---
Note that Stake does not accept BEP20 tokens from Binance!
---
If you are buying crypto through Stake's Moonpay gateway, there will be limits, ranging from $30 to $10,000 in the coin of your choice.
Verification and Max Bet

Signing up for an account at Stake takes a few steps. And being a licensed gambling site, it will ask for your age. Once you're registered, you will have to verify your email address, but that's just really just checking the email account you signed up at Stake with.
The great thing about crypto gambling sites like Stake is that there is no max bet limit. It doesn't really mean that all bets are unlimited. What it means is that the bet limit is dependent on the provider's ability to make their books balance with the maximum win they can afford to pay you in case of a win. This is much fairer than some arbitrary legal limitation. So it's not really set and it really depends on the odds. However, even though it's not set in stone, you can get an idea of where the upper limits lie by scrolling down the page and checking out the High Rollers tab. Take a look there and see what kinds of bets they're making.
Back to TOC
7.) Stake Customer Service & Help Center
It's easy to get in touch with the Stake Customer Service with their 24/7 live chat, and the team is professional. There's also an extensive Help Center that goes beyond simple FAQs. Just type in the keywords or your question and it will bring up all articles related to your concern. The Blog also has how-to articles, as well as Tips and Predictions for upcoming events.

What we really like about Stake is the active forum, where players and punters interact with each other to share tips and discuss news. Other than the hunches on the next matches and games, there is also plenty about of coin drops and just general chatting.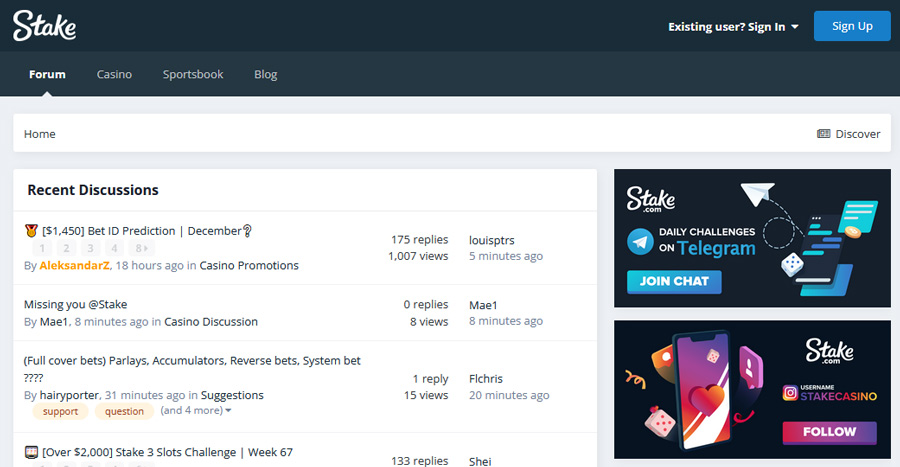 MoreLess
Additionally, Stake is pretty active on social media. Facebook, Twitter, and Instagram – it's all there. There's also a Stake Youtube channel, which includes the UFC Tips and Predictions from Luciana Andrade. Additionally, you'll see some action with Drake and LeBron James, although this is more on the Stake Casino side of things.
Drake is one of few celebrities who play at Stake Casino.
---
Back to TOC
8.) Security: Can you trust Stake?
Your digital coins are safe at Stake. This crypto bookie passed our testing without any issues whatsoever. There were no issues with cashing out at all. Other punters and players have reported that withdrawals are smooth and there are no hang ups.
The sportsbook isn't your average betting site – Stake has several high profile sports sponsorships. FC Watford has Stake on their shirt when they go play in the English Premier league. Even those who aren't into soccer will know that you have to be for real to do something like this. It also works with sport celebs like the UFC girl Luciana, and with the musician Drake on the casino side. These guys are for real and you can definitely trust Stake.
Stake is owned by Medium Rare NV, which is registered in Curacao and holds a gambling license from there. That means they are a fully legal online sportsbook.
Stake Sports in Short
Stake is one of the top crypto sportsbooks on the market right now, and we're not surprised. On the crypto side of things, it accepts 20 cryptocurrencies and you can also just pull out your credit card and buy crypto from their site via the Moonpay gateway if you don't have any.
From the sports side of things, it has all the sports you want and going well beyond the basics too. UFC is well featured here with special tips, predictions and promos, and there's an esport section as well. The odds are good, although not always the most competitive. We don't feel it's a big issue though. It's such a tiny price to pay for one of the most awesome betting experience you can ask for – such as a thriving community, frequent promos with coin drops, and a fast cashout without any hiccups.
Last Update:
Author Rating:
Show comments
Hide comments